AIRCRAFT MODULE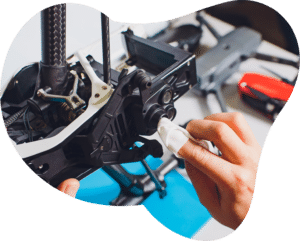 In order to carry out their mission, vectors embed specific playloads which sometimes involve to change their initial conception. Furthermore, a drone operator must manage airworthiness state of their aircraft fleet in order to be able to prove their flightworthiness at anytime.
For that, the drone operator will have to:
Control performances AND operational limitations (manufacturers) of each vector
Keep all the vector related documentation: conception certificate, conformity certificate, technical files, user guide, overhaul and maintenance, etc.
Ensure aircraft airworthiness state by demonstrating that it complies with the maintenance and overhaul procedures preconized by manufacturers: preflight maintenance, overhauls, subsystems replacement
Define accurately the flight procedures for each aircraft: normal procedure, specific procedures related to an activity, emergency procedure, etc.
Aircraft module allows to daily manage operator aircraft fleet: airworthiness status, use conditions, remote pilot reservation, activities report related to fleet use rate, etc.