Regulations in Europe, which will change in 2021 for drone legislation
The drone regulations change in 2021 in Europe and therefore in France. The bulletin of the Civil Aviation Safety Directorate (DSAC) informs us about changes in drone regulations in Europe for the registration of drones for operators and remote pilots of professional drones.

Drone regulations in Europe for UAS operators in 2021
From December 31, 2020, European drone regulations require that all drone remote pilots register as a European operator of unmanned aircraft on board (UAS) with the Directorate General of Civil Aviation on the AlphaTango portal. The operator number thus obtained must be affixed to the aircraft. This process is mandatory even if you have already made a declaration of drone remote piloting activity on the AlphaTango site, even if you have already registered your drone on this same site. This process is easy to do and only concerns drone operators residing in France or planning to fly in France. Any professional drone operator residing in another country will need to register in their country. And for information, drone legislation provides that each operator can only register in one European country.
Drone legislation, beware the operator number will be requested for all your administrative procedures
The drone legislation changes as of December 31, 2020, and your UAS operator number will be requested for all your future administrative procedures. Whether it is a request for an operating authorization, a flight notification, a prior declaration of authorization to fly or a mission planning, you will need to produce your flight number. European registration of aircraft operators. All the permissions you need for your particular activities, use of drones, aerial shots or other scenarios are subject to this obligation.
European drone operator registration, everything happens on the AlphaTango portal
You can now register as a European UAS operator. All you need to do is log into your AlphaTango account and click on "Register" in the "UAS Operator" box. This feature is available as of today on the home page of your AlphaTango account, once you are logged in.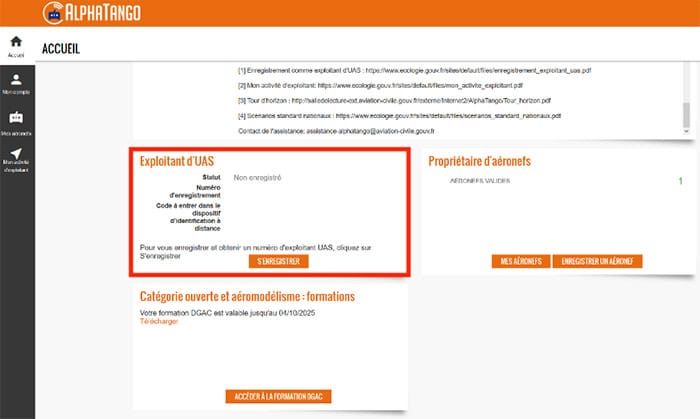 Almost a single recording ?
This registration is an obligation for all aircraft operators. However, some specific cases are exempt from this registration process. Let's see together what scenario you are in and what your obligations are.
Registration is not necessary if you are an open-category operator, your drone weighs less than 250 grams and does not have a sound, film or video recording device, and or This is a "toy" drone according to directive 2009/48 / EC.
Registration does not seem to be an obligation either if you are a drone remote pilot within an aeromodelling association. However, this situation is still under discussion with the European Union Aviation Safety Agency (EASA). Also, to date, aeromodelling associations and members of these associations are not required to register as European operators of UAS for the leisure activities covered by these associations. The DGAC will communicate later on this subject with the French aeromodelling associations.
Remote identification of your aircraft or electronic reporting ?
For reasons of aviation safety and respect for privacy, European regulations provide that certain classes of UAS are equipped with remote identification devices. This device emits an electronic signal containing your identification code. This code must be entered in the remote identification device. This code is communicated to you when you register as a UAS operator on AlphaTango. This code consists of your DGAC operator number and three other additional characters to prevent entry errors. In practice, you will need to enter this code into the UAS via an interface provided by the manufacturer. As long as you do not use an aircraft with a class C1, C2, C3, C5 or C6 endorsement, you are not affected by this obligation.
This European remote identification is independent of the national electronic reporting requirement applicable to all unmanned aircraft on board weighing more than 800g. Electronic reporting of your drone weighing more than 800 grams is a measure taken in France for reasons of prevention of malicious acts (except in cases of exemption). This national requirement continues to apply even after the entry into force of European regulations.
For more information on electronic reporting and exemption cases, here is the AlphaTango help sheet.
The help sheet for recording on Alpha Tango
The French and European authorities are cooperating to allow convergence of these two devices, so as to avoid a double importation for aircraft already equipped with a remote identification device in the European sense of the term.
The DSAC guides are available below. You can download them.
This guide is intended for recreational remote pilots outside of model aircraft associations and professional operators who operate on low-risk operations (in direct view, outside restricted areas).
This document is intended for professional operators who operate in other types of operations
The guide for aeromodelling associations
And DroneCARE in all of this ?
Our drone activity management software solution will be automatically updated as soon as these new European measures come into force. For DroneCARE users, this regulatory "reform" will be almost transparent, a significant advantage given the tediousness of regulatory procedures for drone flights.
Do not hesitate to contact us for any questions regarding the 2021 drone regulations.