Drone pilot training organizations
Drone remote pilot training, which market ?
According to the DSAC activity report, 12,272 remote pilots had graduated as of December 31, 2019 (or 3,113 more than in 2018).
The annual training market for these French professional drone remote pilots is estimated at around ten million euros in value. It is distributed among around forty players (registered with the DGAC) with different characteristics:
About ten centers exclusively dedicated to drone remote pilot training
A few drone manufacturers have opened a drone pilot training academy.
Around twenty service companies provide drone pilot training to date.
List of drone training organizations
The fifteen largest players in the drone training sector trained more than 80% of new remote pilots in 2019.
The proximity of training centers to trainees is an important factor. The map below shows the geographical location of their head office (knowing that some organizations run several training centers).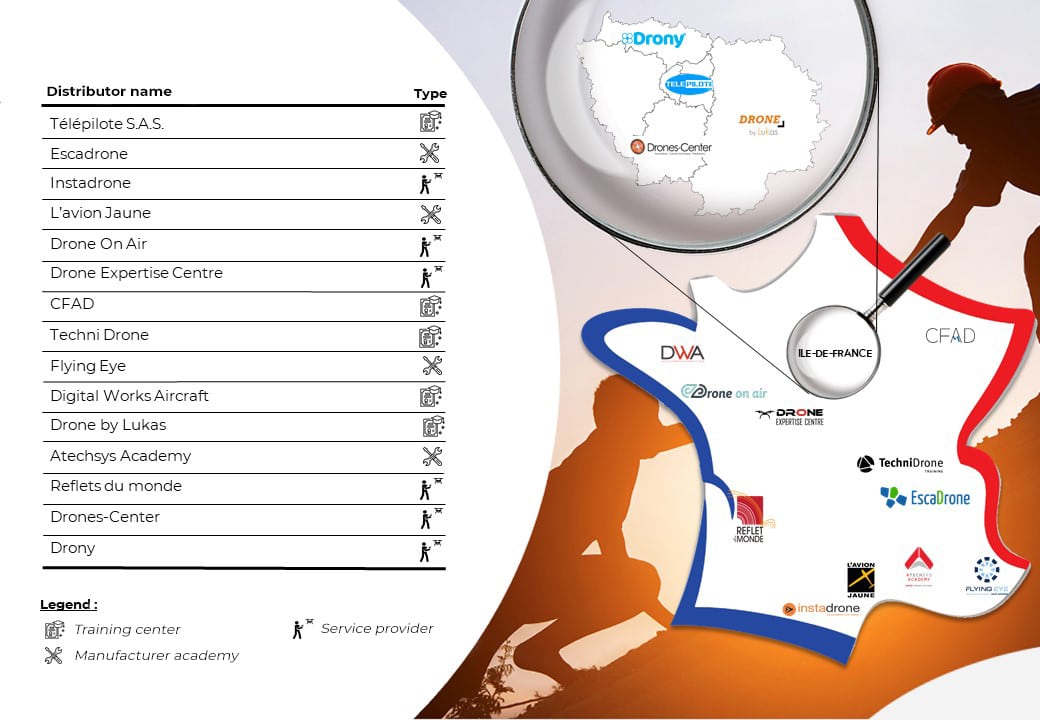 Drone training and market for drone operators in France
The market for the operator of specific drone activities has exploded in recent years in France. At the end of 2019, there were more than 8,500 companies officially registered on the DGAC list as operators of civilian drones. The annual growth in volume of this market is over 30%. Each drone training center knows this and offers a range of benefits and services combining different courses and personalized drone training programs (complete training, theoretical and practical courses) with the aim of issuing certificates of aptitude to pilot a professional drone ( certificate of aptitude, certificate of follow-up):
Beginner theoretical training (theoretical knowledge, how to become a pilot and learn to fly), expert theoretical training (ULM theory, MCQ);
Practical training, piloting of specific drones (initiation to piloting, training in the use of drones, aptitude for remote pilot functions of specific drones);
Further training (increasing qualifications and improving the level of competence)
Mandatory training on new regulations
Use of specific sensors (optical camera, lidar, multispectral camera)
Interpretation and analysis of images
The activities of aircraft operators are broken down as follows
Over 100,000 flight hours for remote pilots in the communication and audiovisual sector:
Aerial shots for cinema, information and media.
Aerial photography shots
Videos and commercials
Leisure and communication drones for companies
Over 50,000 flight hours for remote pilots in the construction and civil engineering sector with overflight of regulated airspace (the use of a civil drone is much easier to implement and less expensive than the use of a helicopter) :
Aerial shots for real estate
Shots in civil engineering. aerial photography for public works, inspection of structures, industrial sites and cartography
Inspection of infrastructures and networks. control and inspection of transport and energy networks such as electricity networks, pipelines, or oil pipelines.
Inspection of operating sites and the oil and mining industry
Inspection of telecommunications network installations and mobile operators.
Source of information: DGAC Direction Générale de l'Aviation Civile.